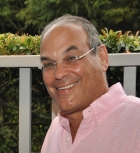 Donald Weiss (Chairman)

Don focuses on capital acquisition, corporate partnerships and the strategic direction of the company. Don also serves on the Board of Directors.
Don has vast experience building and running companies and has been involved with several technology startups, including Advertising.com, Epibone and Cybershop, which went public in the 90's. He serves on the boards of Smart and Strong, Alembic Insurance and Triangle Services. Don is active in the World President's Organization and serves on the board of the Metropolitan Presidents Organization. Since 1998, Don has been Adjunct Professor of Entrepreneurship at the Columbia University Graduate School of Business and was featured on the cover of INC. Magazine in November 1993.
Don has received numerous prestigious awards for his business leadership and entrepreneurial skills, including the Botwinick Prize for Business Ethics from Columbia Business School, the New Jersey Manufacturing Entrepreneur of the Year from the American Institute of Entrepreneurs and the Manufacturing Business Leader of the Year from New Jersey Magazine. He was a founding director of Quality New Jersey, a coalition of business, government and institutional leaders to foster quality in New Jersey.
Don has a degree in Mechanical Engineering from Cornell University and an MBA from Columbia University.